About Dental Solutions of Little Rock
Exceptional Dental Care in Little Rock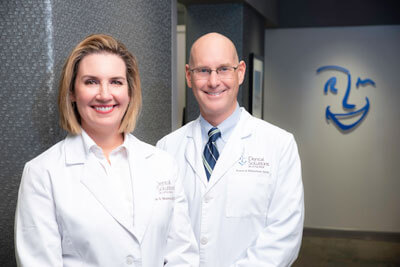 Dental Solutions of Little Rock was opened in Little Rock on July 5, 1988 by Dr. Robert Richardson. In 2000 he established a partnership with Dr. Leslie Monroe and in 2014 Dental Solutions of Little Rock expanded to two locations.
Our Mission
At Dental Solutions of Little Rock our common goal is to provide the most advanced quality care in the state of Arkansas in a clean, comfortable and caring environment. Our well trained staff works together to realize a shared vision of uncompromising excellence in dentistry.
When you visit either of our practice locations, you'll find that we're different than most dental providers. Our dentists spend an enormous amount of time listening to each patient. We get to know what his or her expectations are when it comes to their dental care. We empower our patients with knowledge and information regarding their oral health, so that they can make the best choices when it comes to restoring their smiles.
Welcoming Customized Care
When you visit us you can always expect:
One-on-one consultations with an understanding approach
Customized options for your dental care
Professional, quality services that enhance beauty and function
A concern for your overall health
Explanation of cost and estimation of insurance benefits
Conservative, aesthetic restorations that strengthen your teeth using the latest techniques and materials
Our friendly, professional team will help you feel welcomed from your very first visit. Many of our staff members have been with our practice for over 20 years. Our patients can expect to see the same familiar faces at every visit. We also work with Board Certified Endodontist, Dr. Aundra Murphy to provide in-house root canal therapy for our patients.
MEET OUR DOCTORS »
Do you want the same person providing for your oral health at each of your dental appointments? Contact Dental Solutions of Little Rock today and become part of a dental family where you're more than just a patient.
---
About Dental Solutions of Little Rock