TMJ/TMD Treatment in Little Rock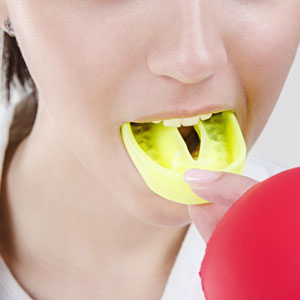 At Dental Solutions of Little Rock, you can feel confident that we'll make every effort to provide for your needs. We focus on superior quality dentistry, which starts with our customer service and extends to every procedure and material used at our clinic. If you have issues with your jaw, you may require special care. Our team is skilled in providing solutions for people who have problems with their temporomandibular joint, or jaw joint.
The Powerful Temporomandibular Joint
You can find your jaw joint just below your ears on either side of your face. These joints are incredibly strong and can exert a strong pressure. Though your teeth should only touch when you're eating, many people grind or clench their teeth. If you're one of those people, you likely have experienced some of the following problems:
Headaches
Clicking and popping in the jaw
Facial pain
Ear pain
Pain when chewing
Locking of the jaw joint
TMD is the shortened version of temporomandibular joint disorder or temporomandibular joint dysfunction. These disorders develop from issues between your upper and lower teeth, your jaw joint and the facial muscles around the jaw. It may be triggered by grinding or clenching your teeth, trauma, or injury and stress, which can cause people to tighten their facial muscles or jaw.
If you think that you may have TMJ-related problems or TMD, you want a solution that relieves your discomfort. You might have headaches that plague you all day or know that you can't eat certain foods due to your jaw dysfunction. These issues can be easily cleared up by wearing what is called a splint at night.
A splint looks similar to a mouthguard that is worn for sports. It's snug-fitting, comfortable and allows you to breathe normally. Each splint is custom-created to the individual by our local laboratory.
Learn More Today
Get out of pain and start getting the rest you need. Contact our friendly team today to discuss TMJ/TMD treatment Little Rock and learn more about what we can do for you!
CONTACT US »
---
TMJ/TMD Treatment Little Rock AR | Dental Solutions of Little Rock