Inlays & Onlays in Little Rock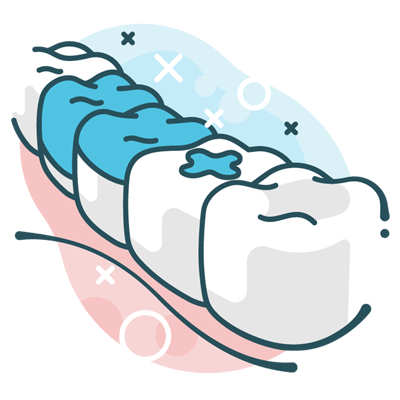 The team at Dental Solutions of Little Rock is dedicated to providing high-quality care for every one of our patients. When you join our practice family, you'll know that you're in great hands. From the moment you step in, each of our staff members is committed to giving you a positive experience. We want to make sure you're always satisfied when you visit us.
Our many solutions within restorative dentistry include dental inlays and onlays. These options are for people who have a weakened tooth. A tooth can lose some of its structure from decay, trauma or simply from the passage of time. If so, an inlay or onlay can restore your good oral health.
What Is an Inlay or Onlay?
When the health of a tooth has been compromised, you don't want to leave it untreated. If you do so, the problem can spread to another tooth or you may face losing the tooth down the road. An inlay or onlay is a simple solution that is more conservative than a dental crown but provides more coverage than a dental filling.
Each inlay or onlay is custom-created for the individual. After your first appointment, we'll send information to our laboratory, where your inlay or onlay is made. It can either fit between the cusps of your teeth or go over the cusps for more coverage.
What to Expect in Getting an Inlay or Onlay
After we've determined that you can benefit from having an inlay or onlay, we'll gather information such as impressions. This data will be used by our laboratory to create your restoration. After it's completed, you'll return for a follow-up visit. At this appointment, your inlay or onlay will be cemented into place. It's color-matched to your smile, so you won't have to worry about anyone noticing it.
Find out about inlays and onlays Little Rock and our array of solutions. Contact our team today!
CONTACT US »
---
Inlays & Onlays Little Rock AR | Dental Solutions of Little Rock