Dental Crowns in Little Rock
Beautiful and Functional Dental Care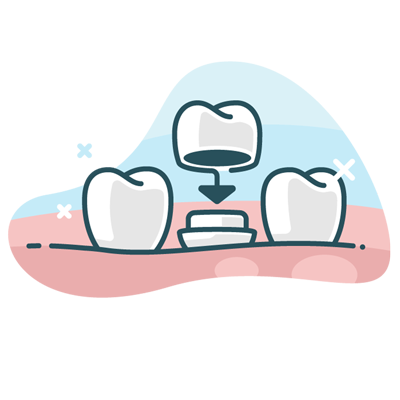 Dental crowns are protective layers of durable porcelain that cover a damaged tooth. This protects the compromised tooth surface from breaking apart further. They are often considered to be the last line of defense for restoring teeth that have experienced:
Large fillings which need to be replaced
Severely fractured teeth
Large cavities
Root canal therapy
Unattractive teeth
Long Lasting Dental Crowns
Although the lifetime of the restoration will vary from person-to-person, Dental Solutions of Little Rock has seen the majority of our crowns last for well over two decades.
One of the factors to be considered is the amount of healthy tooth structure that is still present under the crown. Experience matters! At Dental Solutions of Little Rock, we have placed well over 20,000 successful restorations.
Dental Crowns are designed to look and function like a natural tooth. Caring for your crown is important, with regular daily hygiene and routine preventive care extending the health of the tooth underneath.
Dental Solutions of Little Rock is great! I highly recommend them.

Heather
The Treatment Experience
We offer traditional dental crowns which require two visits approximately two weeks apart for the tooth to be prepped and a handcrafted lab crown to be designed.
Dental Solutions of Little Rock uses durable porcelain materials that restore function while also enhancing the appearance of a smile. Each crown is custom matched so that the permanent restoration blends right in with nearby teeth. Find out which type of crown is best for you by contacting us today.
CONTACT US »
---
Dental Crowns Little Rock AR | Dental Solutions of Little Rock