Committed To Your Safety
Dear Dental Solutions Family,
We hope this letter finds you and your family in good health. Our community has been through a lot over the last few months, and all of us are looking forward to resuming normal habits and routines. While many things have changed, one thing has remained the same; our commitment to your safety and the safety of our team.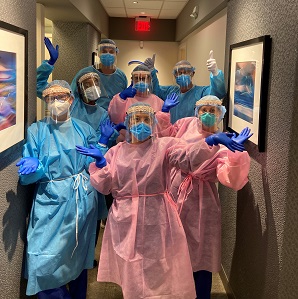 As you have seen during your office visits, infection control is a paramount responsibility that we have routinely demonstrated as a standard of care for our patients. We follow infection control recommendations made by the American Dental Association (ADA), the U.S. Centers for Disease Control and Prevention (CDC), and the Occupational Safety and Health Administration (OSHA). We follow the activities of these agencies and have yearly continuing education courses so we are up-to-date on any new rulings or guidance that may be issued. We do this to make sure that our infection control procedures are current and exceed each agency's recommendations.
Our Additional Precautions
In response to the COVID-19 pandemic you will see additional precautions when you come in for your next appointment. We have made these changes to protect both our patients and our team. For example:
Our office will communicate with you beforehand to ask some screening questions. You'll be asked those same questions again when you are in the office.
We have hand sanitizer we will ask you to use when you enter the office. You will also find some in the reception area and other places in the offices for you to use as needed.
We will ask you to remain in your car until we are ready to see you. We ask that only the patient enter our office to minimize the number of occupants, unless the patient is a minor.
You may have noticed that we have removed many of the chairs in the reception area and that we no longer offer magazines or children's toys, etc. since those items are difficult to clean.
To allow for social distancing within the office, we are only able to see a limited number of patients a day which means there will be fewer appointments available.
We have installed a computer at the front and will have one of our team serve as virtual concierge to help you with any payment arrangements or questions.
You will also notice the clinical team will be wearing more personal protective equipment (PPE). We will be wearing disposable surgical gowns, N95 or equivalent masks with another mask over it that will be changed between patients, gloves, face shields, bonnets or surgical caps, and booties.
Due to the cost of the PPE, which has doubled or even tripled on some items, we will be adding a $20 PPE charge for each patient seen in our office.
We will do our best to schedule so that wait times are minimized but please understand we are learning how much time takes to don additional PPE and the additional time it takes to break down and set up our rooms.
"Virtual appointments" (teledentistry) may be scheduled to limit person-to-person contact.
Please understand we are triaging patients and will get everyone taken care of but it may take a little time to catch up. Our door will stay locked so there will be no walk-in traffic. We will be answering phones. If we cannot answer, please leave a message and we will get back to you. If you do have a dental emergency, please call our office at 501-448-2944 or our emergency line at 501-302-0000.
Our Teledentistry Option
Our goal is to offer patients a virtual option for care. This option will save the patient time and will limit unnecessary contact between provider and patient.
To schedule these exams, patients can call the Chenal location at 501-448-2944 and speak with the front office about time preference. After hour emergency calls are also available for patients by calling 501-302-0000.
In the following weeks we will begin resuming our hygiene appointments. We have quite a backlog of patients needing to get in so again, please be patient with us as we try to accommodate as many patients as possible.
We look forward to seeing you soon and are happy to answer any questions you may have about the additional steps we have taken to keep you, our patient, and our team safe.
Thank you for being our patient. We value our trust and loyalty and look forward to seeing you and your families.
Sincerely,
Robert E. Richardson, DDS
Leslie V. Monroe, DDS