Snoring and Sleep Solutions in Little Rock
Quality Rest with a Dental Sleep Apnea Appliance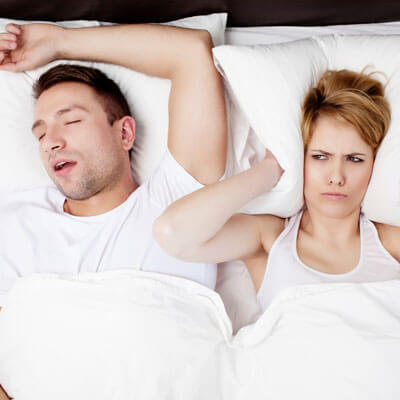 Our dentists have spent the last decade studying and implementing the method of dental sleep medicine to our patients. Dental sleep medicine uses oral appliances that allow patients to receive quality sleep when Continuous Positive Airway Pressure (CPAP) equipment is not an option or cannot be tolerated by the patient. These comfortable, form-fitting devices help to naturally open a person's airway so that oxygen flow can continue during rest.
We Partner with Your Sleep Physician
The services that we offer allow us to be technicians providing a service under the direction of your sleep doctor. Once someone has been diagnosed with sleep disordered breathing or sleep apnea, Dental Solutions of Little Rock will coordinate care with your physician to determine whether or not an oral sleep appliance is right for you.
Under the care of your physician, we impress and fabricate a customized oral device that is worn during sleep. Most patients experience noticeable benefits during the very first night.
In addition to helping you sleep better, oral sleep appliances protect your smile from the impacts of sleep apnea.
Benefiting from Medical Coverage
In addition to filing dental claims for insurance purposes, Dental Solutions of Little Rock patients can also take advantage of medical benefits when they are receiving dental sleep medicine treatments. Our practice implements medical claims software that allows us to assist patients in estimating, filing and receiving medical benefits coverage for their sleep therapy.
Experience better sleep and a healthier smile. If you have suffered from sleep apnea but CPAP equipment seems too invasive or is not an option, we invite you to contact Dental Solutions of Little Rock in Little Rock today to discuss how we can help.
For complete information about snoring and sleep apnea, please visit the American Academy of Dental Sleep Medicine (AADSM).
CONTACT US »
---
Snoring and Sleep Solutions Little Rock AR | Dental Solutions of Little Rock