Dental Bridges in Little Rock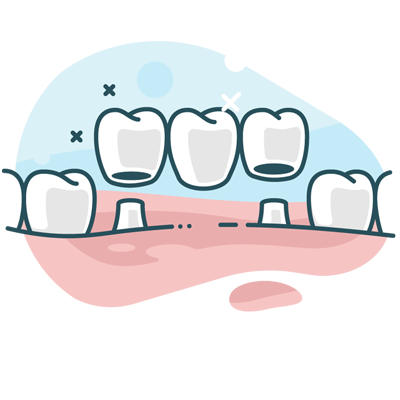 The team at Dental Solutions of Little Rock is proud to have been a part of our community for more than 25 years. We welcome all ages, from children to senior citizens. If you are missing teeth, we provide a range of tooth replacement solutions. One of these is called a dental bridge. When you fill the gaps in your smile, you'll feel your self-confidence improve and be able to enjoy all the foods you love without worry.
How a Dental Bridge Works
A dental bridge looks like a row of false teeth. The teeth on either end of the restoration are attached to the teeth that are adjacent to the gap where the teeth have gone missing. The ones in the middle of the bridge, then, can be suspended into the open space. Since a bridge is fixed permanently into place, taking care of it is simple. It requires that you carefully clean under the bridge, but other than that is maintained just like a regular tooth.
What to Expect in Getting a Dental Bridge
Your first step is to schedule a consultation with our dental team. We'll assess your oral health and discuss all possible options with you. You may be interested in learning more about a denture or dental implants, for example.
Once you have decided to get a bridge, there are two steps involved. During the first appointment, we'll gather impressions and send data to our local laboratory. There, your bridge is custom-created to our exact specifications, including color and shape of the teeth.
When the laboratory sends your bridge back, you'll return for a second appointment. At this visit, we'll fit your bridge into place and make sure that you and your dentist are satisfied. Then, we'll cement the bridge into place. You'll receive detailed instructions on how to take care of your dental bridge Little Rock to ensure that it lasts for years.
Contact Dental Solutions of Little Rock today to schedule your appointment!
CONTACT US »
---
Dental Bridges Little Rock AR | Dental Solutions of Little Rock