Dental Implants in Little Rock
Permanent Tooth Replacement Options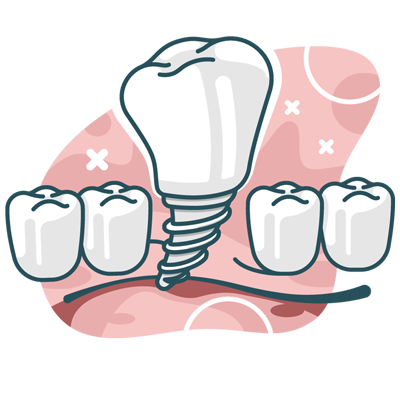 Dental implants allow Dental Solutions of Little Rock patients to replace their missing teeth with something that is the most similar to resembling a natural tooth than any other dental treatment available. Not only are dental implants functional, but they also serve as an aesthetic approach to restoring our patients' smiles.
A Team Approach to Dental Implant Therapy
Our dentists team with a board certified oral surgeon for the surgical placement of the implant roots. Dental Solutions of Little Rock coordinates the care process, and then places the appropriate fixed restoration on top of the artificial tooth root.
Dental implants in Little Rock can support:
Individual dental crowns for single missing teeth
Dental bridges
Full mouth replacement
How Long Do They Last?
Implants have the potential to last for an entire lifetime. The stability of the titanium root and new bone development around it keeps the implant securely in place no matter what types of forces are exerted onto it. In fact, they have the highest success rate of any dental restoration available.
Are you looking for an aesthetic, yet functional option that provides permanent tooth replacement? Dental implants strengthen your smile and help boost your self-confidence. Find out whether or not you are a candidate for implants by scheduling a consultation at one of our Little Rock offices today.
CONTACT US »
---
Dental Implants Little Rock AR | Dental Solutions of Little Rock